On Saturday, we will celebrate our 11th wedding anniversary. On number 10, we weren't even in the same city. We had only been home from Ethiopia for two weeks. They were all terribly sick, and I was completely overwhelmed with two new kids who wouldn't eat, wouldn't speak and were trying to jump out of a moving car. I ended up spending my ten year wedding anniversary hiding in my garage... crying... where no one could see me. Oh, such a memory!
But this year... this year is going to be different. Jeff and I are going away for a night and a day to Branson. I know, after last year, my expectations are not high. It doesn't have to be a big trip. It doesn't have to be expensive. It just has to be something. We are going to watch movies and spend time together without any little ones pounding on the door. What bliss!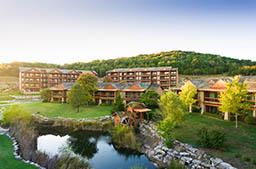 Here's where we will be!